Design Build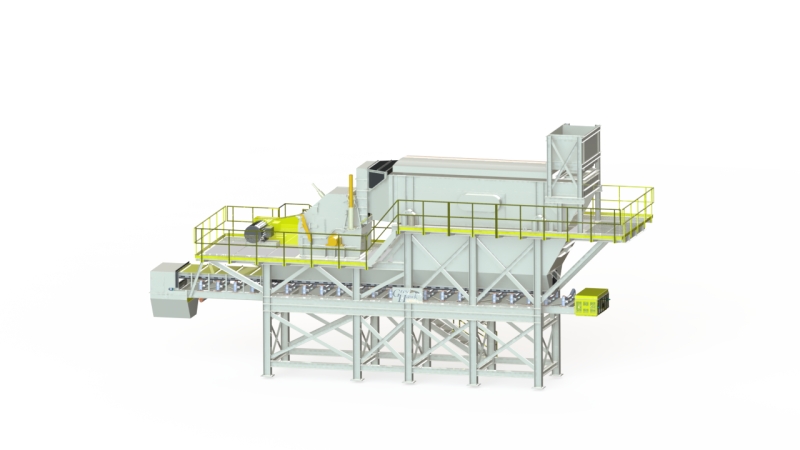 GH-NP1213-3620
GreyHawk Heavy Duty Chassis
Main Chassis

24" 68# mainbeam
Tandem-axle Hutch spring ride suspension
Qty 8 11R22.5 tires on Budd type wheels
Air controlled brakes on all three axles
LED side marker and tail lights
Large machinery platform with handrails
Crusher Motor

(1) WEG 200HP, 1200 RPM, 460 volt
48" Rear Feed Conveyor

Channel frame
Superior 5" CEMA C channel mount idlers
Superior 5" CEMA C return idlers
12" telescoping tube take-ups
Superior Exterra belt scraper
3 ply, 3/16" top cover conveyor belting
Head Pulley

Van Der Graff motorized head pulley-12"
15HP

Tail Pulley

Superior 12"x51" chevron wing pulley
XT30 hubs
2-15/16" dodge SCM bearings

Full length ½" skirtboard rubber
48" Side Discharge Conveyor

Channel frame
Superior 5" CEMA C channel mount idlers
Superior 5" CEMA C return idlers
12" telescoping tube take-ups
Superior Exterra belt scraper
3 ply, 3/16" top cover conveyor belting
Hydraulic fold
Head Pulley

Van Der Graff motorized head pulley-12"
15HP

Tail Pulley

Superior 12"x51" chevron wing pulley
XT30 hubs
2-15/16" dodge SCM bearings

Bolt in 1" Polyurethane wear panels in crusher drop zone
Rear door allows access to the crusher
½" skirtboard rubber where required
Electrical:
5'x5'x12" deep electrical enclosure
Enclosure is bolted to a steel support frame for setting on grade during operation
Lifting eyes
Connected to plant with 15' of cable to allow the customer to position the enclosure
Door interlocked disconnect linkage
Warning horn
Square D circuit breakers
Square D NEMA rated starters
Feed conveyor is controlled by a Allen Bradley VFD
Crusher motor is controlled by an Allen Bradley soft-start
Door mounted amp meter for crusher motor amperage
Hour meter located inside the enclosure
Hydraulics:
11HP Honda gasoline engine with electric start and backup recoil start
(4) leveling jacklegs with 5" diameter 18" stroke cylinders
Four bank valve body for independent control of each jackleg
Single bank valve to control side discharge conveyor fold
Single bank valve to control the feed conveyor fold
Adjustable king pin support - Adjustable tubular supports reduce the amount of blocking required in the kingpin area during plant operation, which simplifies set up and tear down. The kingpin supports are lifted and pinned for towing to clear the semi-tractor.
Safety Guards:
We install all standard guarding, customer will be responsible for compliance with local codes.
General:
Chassis to be sandblasted, one coat tow part epoxy primer and two part urethane finish painted one coat GreyHawk beige with orange and grey highlight stripe on the trailer frame beams.
(2) sets of owners/parts manuals.