Crushing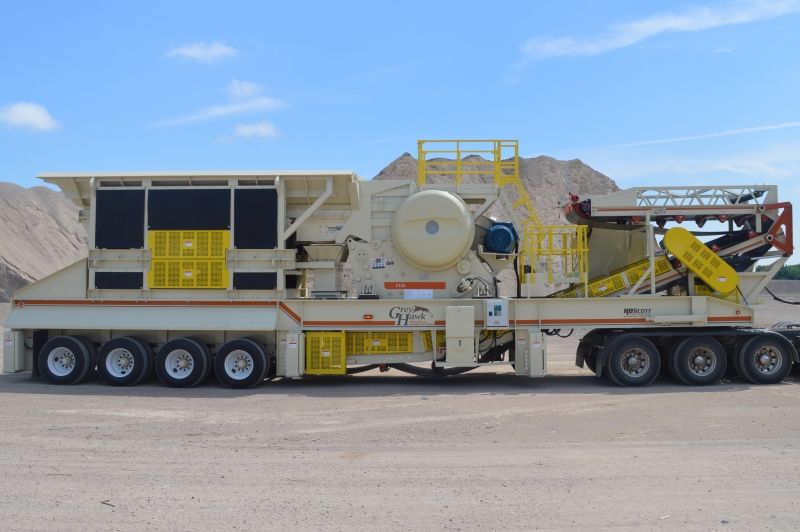 Product Downloads
GreyHawk/Metso C120 Portable Plant
Nordberg C120 Jaw Crusher
The Nordberg C120 is an aggressive primary jaw crusher for quarries, gravel pits, mines and recycling. The deep cavity and nip angle provide excellent draw and throughput.
Mounting of the crusher is make without a bolted connection to the foundation. The main frame of the crusher is made of rolled steel side plates and two steel castings, connected through precision machined bosses and held together by large diameter bolts. The pitman and front and rear frame castings are made from high–quality steel with excellent fatigue strength. There are no welded joints in the frame. The frame can be completely disassembled for transportation if necessary. The eccentric shaft bearings are long–life grease lubricated spherical roller bearings and are all of the same size.
The discharge setting is easily adjusted remotely with hydraulics, by means of moving wedges. The toggle plate operates on a rocking principle without any lubrication and serves as an overload fuse.
The crusher's jaw dies are of high–manganese steel castings, and the cheek plates of high abrasive–resistant steel plate. The jaw dies can be reversed for maximum utilization. Tools for jaw die are included with the jaw crusher.
Setting Adjustment
Hydraulic Wedge Adjustment – Hydraulic setting adjustment has all the advantages and functions of mechanical setting adjustment plus it is faster and easier to use. All setting adjustments are done remote controlled by means of activating hydraulic cylinders.
Hydraulic Power Unit – Electrification 460V/60Hz. The hydraulic setting adjustment is powered by a hydraulic power unit. A return cylinder keeps the pitman pulled backwards.
Hydraulic unit
Adjustment wedges with supports and cylinders
Return cylinder
Electric motor
Control 115V 60Hz
Hoses from the unit to cylinders
Heat Resistor – Resistor for oil heating in the hydraulic tank
Jaw Dies & Protection
Jaw Profile: Quarry
Protection Plate – Front Frame & Pitman
Drillings for Main bearing temperature sensors
Support Brackets
Vibration absorbing mounting pads
Drive Equipment
Integral Motor Support with 200HP 1200RPM TEFC motor
Drive on Left Side (viewed from the fixed jaw end)
Flywheels 10 x 8 V grooves
Safe and user friendly composite guards
Metso 52" x 20' Vibrating Grizzly Feeder
14' Pan with replaceable ¾" AR steel liners
One 6' grizzly section, with adjustable bars
½" Quick Change AR side plate liners
VL–11 Vibrator, oil lubricated with (2) eccentric shafts and (2) wide faced helical gears (4–110mm, 23 series bearings)
Mounted on steel coil springs at 0 degrees
V–belt drive includes feeder sheave, motor sheave, and belts
V–belt guard
(8) Fabricated steel grizzly bars
OST (Rosta Style) motor base
GreyHawk 60" Under–crusher Conveyor with Hydraulic Power Fold Head Section & Wrap Drive.
8" channel bridged truss design
Superior 5" CEMA C channel mount idlers
Superior 5" CEMA C return idlers with guards
Superior 5" live shaft
Superior Exterra belt scraper
Superior Powerfold
Two foot impact bed at crusher discharge with Argonics impact bars
18" tube in tube take–ups
Single ply conveyor belting
Hinged tail section with hydraulic raise and lower for maintenance access
Head Pulley

Superior 16"x63" drum pulley
XT50 hubs
3–7/16" pillow block bearings

Drive Pulley

Superior 16"x63" vulcanized drum pulley
XT50 hubs
3–7/16" pillow block bearings
Falk 5215 shaftmount gearbox
Weg 30hp motor

Snub Pulley

Superior 14"x63" chevron wing pulley
XT40 hubs
2–15/16" pillow block bearings

Tail Pulley

Superior 14"x63" chevron wing pulley
XT40 hubs
2–15/16" pillow block bearings
GreyHawk Heavy Duty Chassis
24" 84# Mainbeam with Quad–Axle Hutch Suspension 49.5 inch centers, equipped for semi trailer towing with 11:00 R 22.5 tires on Budd type wheels, air controlled brakes, fifth wheel kingpin, conveyor supports, travel lights, reflectors, mud flaps, and heavy duty removable bumper/light bar. Machinery platform with hand rails above the jaw crusher, and a large machinery platform at the back of the crusher. Heavy Duty 3/4" thick A–36 steel hopper, with ½" AR400 plug weld steel liners on the lower two–thirds of the hopper. Heavy duty skid assembly for removal of the complete hopper assembly, by–pass chute with hydraulic slide arrangement for providing service access to the back of the jaw crusher.
Safety Guards:
We install all standard guarding, customer will be responsible for compliance with local codes.
General:
Chassis to be sandblasted, one coat tow part epoxy primer and two part urethane finish painted one coat GreyHawk beige with orange and grey highlight stripe on the trailer frame beams.
(2) sets of owners/parts manuals.
Electric Starters, Wiring and Controls – 5' x 5' x 12" electrical enclosure with structural support to set on grade during plant operation. The enclosure is connected to the plant with 15' electrical cable. The enclosure has a main inlet line surge arrestor, warning horn, lifting eyes and main circuit breaker with door interlocked disconnect linkage. All on–plant equipment is controlled by NEMA rated starters. Crusher motor is controlled by a digital solid state reduce voltage starter (soft–start). The panel includes an hour meter located inside the enclosure and a door mounted amp meter for crusher amperage. The feeder motor is controlled by a variable frequency drive.
Adjustable king pin support – Adjustable tubular supports reduce the amount of blocking required in the kingpin area during plant operation, which simplifies set up and tear down. The kingpin supports are lifted and pinned for towing to clear the semi–tractor.
Power hydraulic raise and lower – Six tube in tube style heavy duty run–on jacklegs, with 6" diameter x 18" stroke cylinders to lift the plant into the operating position. Each cylinder is independently controlled from a hydraulic valve for precise control and ease of leveling. The hydraulic system is powered by an 11 HP Honda gasoline engine with electric start and backup recoil start. Includes two (2) additional valves for sliding the by–pass hopper away from the jaw crusher, and for hydraulic lowering the under crusher conveyor.